Universitat de les Illes Balears – Edifici Sa Riera
Calle de Miquel dels Sants Oliver, 2, 07013 Palma, Illes Balears
                            
How to reach the "Edifici Sa Riera, UIB" from the airport:
Taxi: It can take about 20 minutes and cost around 20-25€ depending on the time of the day.
Public transport: Bus number 1: http://www.emtpalma.cat/es/linea/-/L/1/aeroport-ciutat-port
Nearest stop is:  Passeig Mallorca, 38 . 2 minutes walking distance to the venue. Average frequency: Every 16′.
See the location in google map
Gala Dinner – CUIT BAR & RESTAURANT (at the Nakar hotel)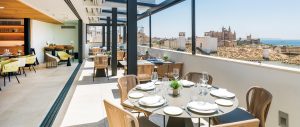 On the 8th floor of NAKAR Hotel is situated the CUIT Bar and Restaurant, where one can experience the wonders and talent of the well renowned mallorcan chef Miquel Calent. From the restaurant CUIT, you can enjoy a unique view of the city, from where you can see the historic centre, the Cathedral, Bellver Castle and the beautiful bay of Palma.
For more details about the hotel, you can visit this link.