HOW TO GET TO VENICE
Because Venice is on a lagoon, the water plays a crucial role in transportation. Whichever way you arrive, the last part of your journey will be on foot from the nearest waterbus/watertaxi jetty. If you need to carry or wheel bags along the narrow streets, bear this in mind when choosing your hotel location and route to it.
By plane
The closest commercial airport is Marco Polo Airport (IATA: VCE), on the mainland near Mestre (technically part of the city of Venice but on the mainland and without Venice's unique structure). There is a city bus and a shuttle bus from Marco Polo to Piazzale Roma. See the details in the "By bus" section below.
Treviso Airport (IATA: TSF) is 25km (16 mi) from Venice and is relatively small but becoming increasingly busy as the main destination for Ryanair, Wizzair, and Transavia budget flights. From Treviso Airport to Venice and Mestre, Barzi Bus Service offers a €22 (Oct 2016) round-trip ticket price to Venice. These tickets are also available on their bus.
The San Nicolo Airport (IATA: ATC) is an airfield directly on the Lido. It handles only small aircraft, as the runway is grass and only about 1km long. It does not have any scheduled flights, but might be of interest to private pilots (arrivals from Schengen states only) due to its convenience to the city; it is only a short walk to the vaporetto landing.
From the airport to the city centre
The airport is connected to the railway station of Mestre, opposite the city and convenient for connections to Milan, Padova, Trieste, Verona and the rest of Italy); to the railway station of Venice (5 minutes' walk from Piazzale Roma); and to the bus terminal of Piazzale Roma in Venice by scheduled bus services. You can take a bus, a taxi or a water taxi.
Water taxi is also the most comfortable (and expensive) way to arrive directly to your hotel in Venice, to Venice Cruise Port terminal and to Lido di Venezia (a big island in front of Venice).
Water taxi departures are 10-15 minutes' walk from the Marco Polo airport. From the arrivals hall exit, turn to your left through the airport grounds to the boat departure point. Here you will find free trolleys to carry luggage for the short trip to the water taxi departure point. There are also some companies that offer porter services and/or private minivan transfer from the airport to the water taxi departure point.
Depending on the kind of service requested (meet & greet, luggage assistance, minivan transfer or simply water taxi) the price can run from €100 to €160 (4 people with luggage) from Marco Polo Airport to Venice City Centre or to the Cruise Port Terminal. Every additional passenger costs €10-20. A maximum of 10 people can take one standard water taxi.
The price for a shared transfer will be €35 per passenger, but in this case you will have to wait for other passengers until the water taxi will be full.
When you exit the airport, the ACTV bus #5 will be on your left and the ATVO bus will be on your right; both will take you to Piazzale Roma (the only part of the city of Venice that you will be able to reach with ground transportation).
By boat
Cruise ships and smaller boats arrive at the Stazione Marittima which is at the west end of the main islands. The cruise and ferry terminals (see map[1]) can be reached from Piazzale Roma by:
People Mover[2] (3 minutes trip). This new (2010) public transportation system, an automated land funicular operating from 7 AM to 11 PM Mon-Sat (check website for Sun/holidays) every 8 minutes, allows you to reach Piazzale Roma in less than 3 minutes (€ 1.30 pp). A shuttle bus service is available to connect the various terminals with the People Mover stop at Marittima.
Taxi cab (about 2 minutes trip).
The cruise port is also served by vaporetti and water taxis.
Turn left on leaving the terminal and walk 10 minutes along the covered walkway to the boat jetty. Alilaguna water-bus costs €15 for a 75 minute boat trip. Murano costs €8 and takes only half an hour. There are three Alilaguna routes to different areas of Venice. A direct waterbus from the airport may be be more convenient than taking the bus to the bus station and then changing to the local waterbus. The waterbus services that run to the airport are operated by a different company (Alilaguna) than the other public waterbus services in Venice, so separate tickets will be required. Also note that the water-buses are of limited capacity, so you might end up waiting an additional 30 minutes for the next boat. Alternatively, from the same jetty, you can travel in style (and much faster) by hiring one of the speedy water-taxis (30min) for about €110. Waterbus route map.
By train
Trains from the mainland run through Mestre to the Venezia Santa Lucia train station on the west side of Venice; make sure you don't get confused with Venezia Mestre which is the last stop on the mainland. From the station district, water buses (vaporetti) or water taxis can take you to hotels or other locations on the islands, but walking is usually the best option. Direct trains to Venice are available from many international destinations, there are overnight trains from Munich, Paris and Vienna and also a weekly long-distance night train (four nights) from Moscow via Kiev, Budapest and Zagreb. One of the best ways to arrive to Venice by train is with the legendary Venice Simplon-Orient-Express. The local handling agent can do reservations and take care of all the transfers from the train when you arrive. Venice is well-connected with the domestic train network, Rome and Milano are only a few hours away. Also there are some night trains from cities in southern Italy, though since 2012 most services have been cancelled.
By car
Cars arrive on the far western edge of Venice, but remain parked at the entrance to the city (Piazzale Roma or Tronchetto – Europe's largest car park.) There are no roads past this point — and never were, even before cars. Car parking is very very expensive here (€26/12h, €30/24h) and the tailbacks can be quite large. An alternative is to use the car parks on the mainland (terra ferma) and catch a train or bus or vaporetto into Venice. Park near the Mestre railway station, and catch a train to Venezia St.Lucia; there are many trains, it is very near (8-10 minutes) and quite cheap (€ 1,20). Don't bother searching for free parking near Mestre train station – there are no free parking spots near, except on Sunday (free parking is on the other side of the station, in Marghera). Free and safe parking spots can also be found near the Mogliano Veneto and Oriago railway stations. Besides, Venezia St. Lucia is a good starting point to visit Venice. However, drivers going to the Lido can use the car ferry from Tronchetto (vaporetto 17 – frequencies vary), right handlane off the Ponte della Libertà into the city. Another place for free parking in Mestre is the council car park. Those with "Gratuito" are parking lots which are totally free. Many have bus stops right next to them, and many of those buses go directly to Venice without any transfers.
By rental car
Most of the major rental car companies have outlets at Piazzale Roma, at the edge of the city. These are on the ground floor of one of the major parking stations. When you are dropping off your car, you need to find street parking and then walk to the rental car outlet and hand in the keys. Do not park in the parking station! There is a vaporetto stop across the road from the parking station.
By bus
There is a direct bus between Marco Polo airport, Canova (Treviso) airport and the Piazzale Roma, on the west bank of Venice operated by ATVO. Starts twice an hour, takes 20 minutes and costs €9 one way and €15 for a round trip. From the Treviso Airport, the price is €12 one way and €22 for a round trip. If you travel from Treviso airport, ask locals to share fuel to Mestre Station of Venezia Piazzale Roma, or take the local bus to the Treviso train station, and then a train from there.
The buses run from the airport until about midnight but stop sooner on the Venice to Airport route. There are also frequent buses that run from Canova airport (Treviso) and take about 25 minutes to reach Piazzale Roma, which is the main bus station in Venice. From Piazzale Roma, you can easily connect to the place you need to be, by bus, but also if you need to get a train, Santa Lucia train station is just over the bridge about a 5 minute walk ( note that it can be quite tiring walking over that bridge if you have big suitcases and although there isn't a ramp (don't know why), there are wider steps that are not as harsh as the main steps to walk up. There is also a wheelchair stair lift for those requiring it.
From Mestre, you can take a bus to Venice – Piazzale Roma. The ticket costs €2.50 round trip and you must buy bus tickets from specialized ticket kiosks and vending machines, as well as tobacconists and news stands.
(Please note that the ticket prices tend to increase from year to year and may have changed since this article was updated.)
Get around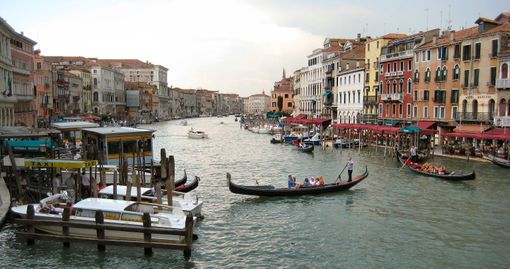 Grand Canal from Rialto Bridge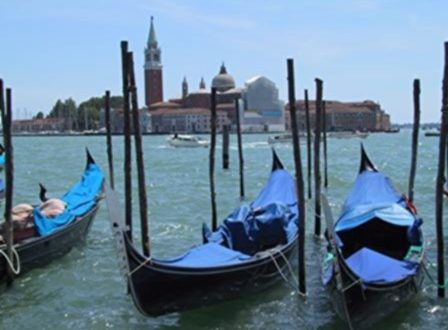 View of San Giorgio, in front of Venice
Venice, the world's only pedestrian city, is easily walkable, and the absence of cars makes this a particularly pleasant experience. However, walking and standing all day can also be exhausting, so it is best to pace yourself. The Rialtine islands – the 'main' part of Venice – are small enough to walk from one end to the other in about an hour, provided you don't get lost (a common occurrence).
If you want to get around a bit more quickly, there are numerous vaporetti (water buses) and water taxis. The vaporetti are generally the best way to get around, even if the service route map changes frequently. If you are going to be in Venice for a few days visiting, it is a lot cheaper to use vaporetti than private water taxis. If you want to have a romantic ride along the canals, take a gondola ride, although they tend to exist for more scenic purposes, rather than getting people from point A to point B.
Thanks to the Vaporetto dell'Arte you can discover Venice and its magnificent treasures along the Grand Canal. It stops at the most charming attractions and museums in Venice and many services are available on board, such as a multilingual audio video system. You can book Vaporetto dell'Arte tickets online with different validity periods (from 12 hours up to 7 days) and they allow you to hop on and off according to your needs and interests over a period of time to visit museums, exhibitions and monuments listed in the information kit you receive on board.
Travelcard
| Time | Prices |
| --- | --- |
| 24 hours | €20 |
| 36 hours | €25 |
| 48 hours | €30 |
| 72 hours | €40 |
| 7 days | €60 |
ACTV runs the vaporetti and other public transport services both in the lagoon and on terra firma. Travel cards are extremely useful since the basic fare for one vaporetto journey is typically €7.00. There are other versions available, including those offering discounts for youths under 29. The vaporetti uses an honour system, meaning you are expected to validate your ticket at the stop before boarding, but there's nobody making sure you do so (except at the busy Piazzale Roma stop), and checks on the crowded vaporetti are extremely rare.
Since 2009 the Venice Connected website of the Comune di Venezia makes possible to book online (at least 7 days in advance) most services controlled by the town administration (public transportation, access to the civic museums, access to public restrooms, car park tickets, entrance to the Casinò and access to the municipal Wi-Fi network covering the entire historic centre); the online prices vary according to the projected number of visitors but are always cheaper than the current on-site prices (and cheaper than with a Venice Card).
You can also get a Venice Card, which has various options that you can choose when you buy it (public transportation, cultural attractions, toilet access, Alilaguna, etc.) There is a 'Junior' version of the Venice that is available at a slightly reduced rate for those between 5 and 29 years of age. Note, however, that a Venice Card is not recommended for those with less than 3 days in Venice, as most of the top attractions are not included in the Venice Card. If you'll be staying in Venice for a week – get the Venice Card and enjoy travelling from island to island and exploring the various museums and churches it offers access to.
Maps are available at the vaporetto stops in the ticket booths. The map is quite reliable, and is free when getting a Venice Card ( €2 otherwise), or view the map here.
Venice Cards can be reserved on-line for a considerable discount here. Keep in mind, though, that there are long lines when taking the Venice Card from the ticket booths. The Venezia St. Lucia ticket booth that offers Venice Cards is the one most on the right when you exit the train station.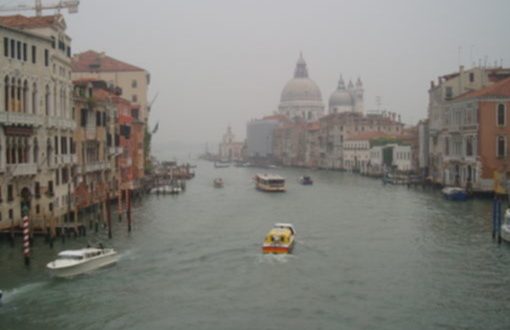 View from Ponte dell'Accademia (a bridge on the Grand Canal)
Otherwise, take a walk! The city is not that big, and you can walk from one end to the other in a few hours (if you stick to the paths conveniently marked with arrows in the direction of major landmarks). But it would take months for a fit person to discover every path in the city. Along the way you will discover marvelous art, superb architecture and breathtaking urban landscaping. Exploring the city randomly by walking is well worth it but also be prepared to get lost easily! Signs all over the city indicate the direction to the main attractions, "Rialto" and "San Marco", as well as the way back to the train station ("ferrovia") and the bus terminal ("Piazzale Roma"). These signs make it easy to have the "get lost experience" even as a one-day tourist.
The traghetto is the cheapest way to cross the Grand Canal without using the bridges. It costs only 2 Euros per person for tourist (70 cents for locals). There are 7 piers for traghetto along the canal. Simply look for straight lines across the canal in the map.
Be aware that addresses in Venice are of the form DISTRICT number (The Venetian word for district is "Sestriere"), not STREET number. To find a specific place using a map, make sure you know which district it is in. The numbers are assigned at the start of the district and increase as they move farther away from the Grand Canal.