Sights
The castle, on a hill above the old town, dominates the city of Bratislava. It features in the first written reference to the city, which appears in the Annals of Salzburg of 907, in association with a battle between Bavarians and Hungarians. The castle hill was populated as early as the late Stone Age; its first known inhabitants were the Celts, who founded a fortified settlement here called 'Oppidum'.
Devín Castle, a national cultural monument, is located at the foot of a cliff above the confluence of the Danube and Morava Rivers. This strategically important site has been settled since the late Stone Age by a succession of groups, from the Celts to the Romans, the Goths to the Lombards, and many more.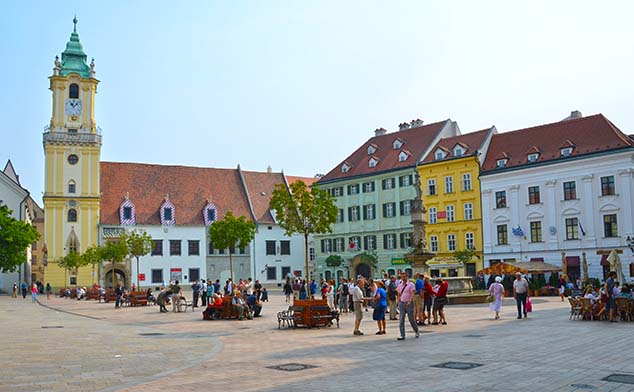 The history of the Old Town Hall dates back to the beginnings of the mediaeval town in the 13th century. It was then that the original Romanesque house of Mayor Jakub became the property of the city. Over the course of time Unger's House and Pawer's House were annexed to it.
This sumptuous building, dating from 1911-1915, was built in eclectic style on the former site of a baroque granary from the 18th century, according to a design by Budapest architects D. Jakab and P. Komor. Lavish balls continue to be held in the Reduta building to the present day.
For all the available Sights check this website.